This will be a short post. When I saw a photoblog, with Steve Jobs' picture, and a caption saying "Apple's Steve Jobs 1955 – 2011", I was sure it was a bad joke. A lot of people in the business world didn't have Jobs on their favorites list. I think it was October 6. I'm not a Television News viewer, actually I always considered the mainstream "news" pure and naughty brainwashing. This is actually, a very short blog post. I wasn't a great admirer of Steve Jobs. I'm sorry he passed away, I'm sorry he left. He wasn't well. That was his fate. I found this picture as an avatar for a lot of people on Twitter, my favorite Social Media site, if Google+ remains too "slow" for my taste, in matters of dynamics.
I remember he was told he is an asshole, by an Adobe employee, in a matter of exclusivity, something to do with iPhone and the iPhone generations. I didn't agree. I think he was all right, he had guts to demand a high price for exclusivity, for exquisite. He wasn't the Volkswagen of computers, like almost every Windows ( PC ) is, he was the Porsche. Sleep well Mr. Jobs. If your successors will make Apple a more exclusive item with a lesser lifespan, or if they'll transform it in the universal tool, the one you have to change every few months, like the Chinese copy of Victorinox, your enemies dream will be totally accomplished. Apple Computers – a new era. We all hope it is not the end of it with the retreat of it's creator. It is a place hard to fill up. But I think Apple will become revolutionary for all, somehow.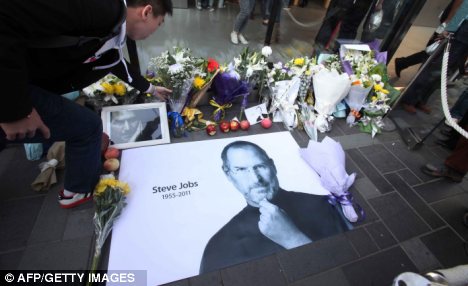 I don't have many words. That's all. Good bye!
If you liked what you read (and for that I humbly thank you for your patience), subscribe to this blog by Email! Follow this blog on Twitter, on Facebook, and on Google+! For a joyous day, check out my pins on Pinterest or my grams on Instagram 😄. I hope you like this blog so much that you think it's time to take a step further by becoming yourself a blogger; in order to do that have the kindness to read the Own Your Website offer I have prepared for you! You won't regret. Thanks for passing by 😄 Speak your mind, don't be shy!

Copyright © 2011 Rodolfo Grimaldi Blog – In Memoriam Steve Jobs
If you liked this article, tell someone about it